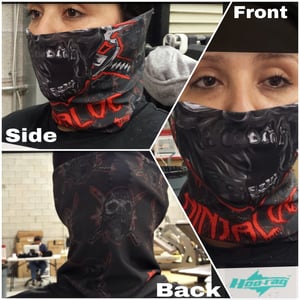 $

14.99 - On Sale
NinjaLOC Custom Hoo-Rags
Bandanna Mask
-Half Hoo NinjaLOC edition
The Half Hoo Headband is perfect for running, yoga, hiking, Biking etc–
anytime you're going to sweat –
and fresh enough to wear even when you're not!
This is one headband that stays in place and won't slip or slide around as you get your groove on.
The moisture-wicking material is specifically designed to keep you sweat-free with just enough stretch to fit comfortably on almost everyone!
That means no more dreaded headband headache.
We took the original Hoo-rag and downsized it! This new short and sweet Half Hoo is perfect for all you who like to rock the rag primarily as a Mask, headband, alice rag, neck gaiter and/or pony tail holder.
The Half Hoo is made of the same moisture-wicking material as our original Hoo-rag, the only difference is that it's half the size.
The Half Hoo Is measured at approximately 9.5″ x 9.5″.